Venturing beyond my culinary comfort zone, I decided to experiment with a Caribbean goat stew, and I'm thrilled I did. After all, the essence of cooking and blogging is to explore and try new things.
With the arrival of autumn, I find myself gravitating toward comfort foods, such as soups, stews, and chowders, reminiscent of my time living up North. Residing in downtown Miami, I'm surrounded by Caribbean culinary influences, and despite the season, it still feels like summer. Authentic Haitian goat stew, Cuban fried snapper, and Jamaican callaloo are all within a stone's throw from my home.
The organic farm where I source my meats and dairy products sells goat stew meat by the pound, so I decided to give it a shot, stewing it in rich Caribbean flavors like allspice, scotch bonnet peppers, and Indian curry.
The stew turned out to be a delightful medley of flavors, with the goat meat tender and tasty, surpassing beef in flavor and devoid of any gamey taste.
Traditionally, curried goat is served with white rice, a perfect companion to balance the spice from the peppers. I incorporated a variety of familiar stew vegetables such as carrots, celery, and potatoes.
The stew was quite spicy, making it unsuitable for the little one, but my husband and I quickly polished off the leftovers. If you can find goat meat at your local grocery store or a specialty market, I strongly recommend trying it. It's low in saturated fat and incredibly delicious. We're certainly looking forward to having this dish again soon.
A quick note: I used boneless goat meat for this recipe, but it can also be prepared with bone-in chunks, which might even enhance the flavor. If using bone-in meat, aim for 4-5 pounds.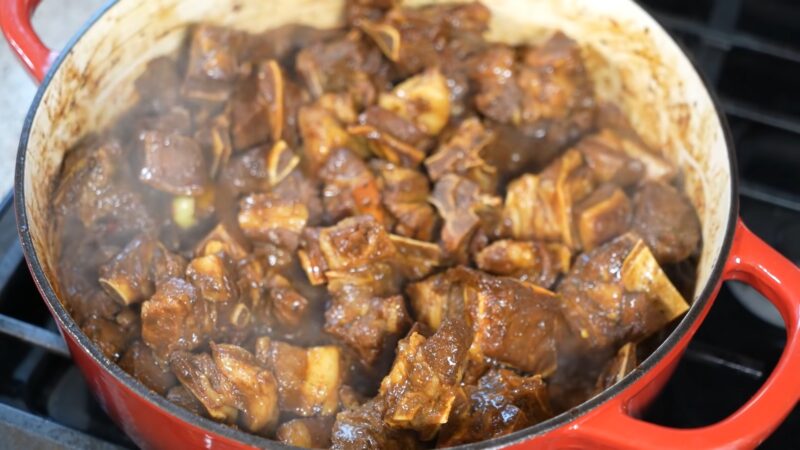 This recipe yields 6 servings.
Ingredients:
Salt and freshly ground pepper
2 pounds boneless goat meat, cubed
4 tablespoons olive oil
1 tablespoon grated ginger
1 large onion, diced
4 cloves garlic, minced
3 large carrots, chopped
3 stalks celery, chopped
1 scotch bonnet pepper (or 1 teaspoon scotch bonnet pepper sauce)
5 tablespoons curry powder
1 bay leaf
1 tablespoon ground allspice
1 teaspoon ground cinnamon
1 tablespoon tomato paste
2 cups chicken or beef stock
1 cup water or white wine
2 tomatoes, chopped
4 Yukon Gold potatoes, cut into 1.5″ chunks
¼ cup chopped parsley
Method: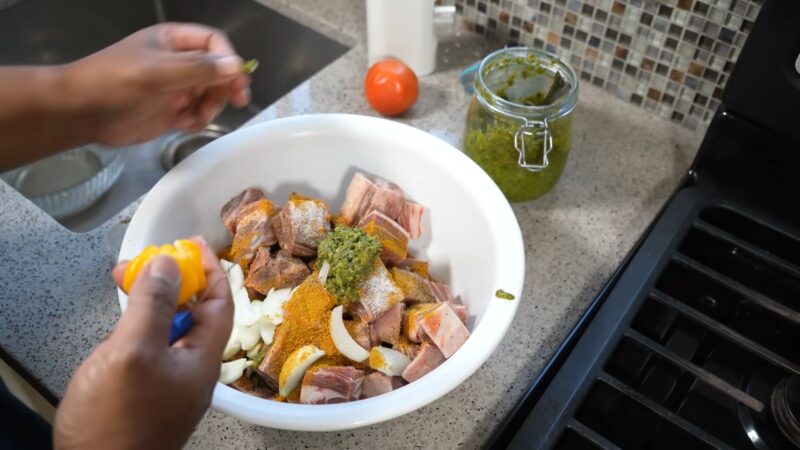 Season the goat meat with salt and pepper and pat dry. In a heavy skillet, brown the goat meat (in batches) in olive oil over medium heat. Once browned, remove from the pan and set aside. Add onions and ginger to the pan and cook until soft, about 5 minutes. Add the garlic, carrots, celery, scotch bonnet pepper (if using), curry powder, bay leaf, allspice, and cinnamon. Continue to cook and stir for another 5-10 minutes.
Next, add the tomato paste, stock, and water (or wine) to the pan. Return the browned goat meat to the pan and bring to a simmer. Cover and cook for 40 minutes on low heat.
After 40 minutes, add the potatoes and tomatoes. Continue to cook for an additional 30 minutes. Taste for seasonings and heat, adding salt and freshly ground pepper as needed. Sprinkle with parsley before serving.